My Hometown Sicilian Recipes!

Welcome to my hometown. I hope to show you the simple yet delicious recipes my Mom taught me when we were younger.
Simple, yet tasty and unforgetable recipes growing up in a small village in Sicily. Please write me if you have any new ideas or recipes to show me.
Love, Elena
Pictures of our hometown - Santa Elisabetta - Agrigento
Recipe for aproximately 20 Rice Balls
Ingredients:
500 grams of rice (italian rice ie: pastene, primo, unico brand)
1 cup of grated cheese romano or parmesan
3 eggs
breadcrumbs as needed
parsley
basil
black pepper
salt
meat sauce
vegetable oil for frying
Description:
Cook rice until tender. Drain and rinse. Pour rice in a large bowl and add eggs, cheese, parsley, basil, black pepper and a little salt. Mix well.
Take rice mixture in your hands, lay it flat on your hand, make an indentation in the center, add the sauce, cheese, and add the rice on top to form a round ball. Roll in breadcrumbs and put aside.


Heat oil and fry rice balls until a golden brown. Remove and put on paper towel. Serve after cooling for 10 minutes.
Baccala Fritto a la Santa Elisabetta
Ingredients:
2 lbs. of salted cod
flour
1/2 cup of olive oil
lemon juice (2)
fresh parsley-chopped
pepper
3 eggs
flour
Description:
Bath baccala in a pot of cold water for two days to reduce the salt content.
When ready heat 1 inch of oil in a deep skillet/dip baccala in flour, and shake off excess/fry until golden,drain on paper towels, and serve with lemon wedges.
or
Make a marinade with oil,lemon juice and pepper/cut baccala into 2 inch pieces, and marinate overnight. Prepare batter by beating eggs together with 3 tbls. of flour,salt, and pepper/heat oil in a deep skillet/dredge fish in flour, and dip into batter/fry until golden on both sides.
Ingredients:
3 lbs. squid-cleaned, and cut into rings
oil for frying
1 cup of flour
salt
lemon wedges
Description:
Heat 1 inch of oil in a deep skillet/dip calamari in flour, and shake off excess/fry until golden,drain on paper towels and serve with lemon wedges
Sicilian cannoli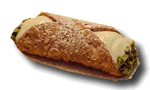 Ingredients:
1 pinch salt
1 tbsp sugar
1 tbsp butter
150 g flour
dry white wine
250 g fresh ricotta (saputo)
2 tbsp chopped bitter chocolate
1 tsp cocoa
1 tbsp orange essence
crushed pistachio nuts
1 tsp coffee powder
2 tbsp candied orange and citron
almond oil
peanut oil
yolk

Description:
To make the pastry case: Place the flour, cocoa, coffee powder, a pinch of salt and the sugar on a pastry board or work surface and mix. Form a well and work in the smoothed butter and enough wine to make a firm dough. Form a ball wrap in cling film and refrigerate for an hour. Filling:Dice the candied fruit and the chocolate. Sieve the ricotta and then whisk in the icing sugar, the orange essence and then add the candied peel and chocolate dice. Refrigerate. Cannoli case:Roll out the pastry and using a round 9'/18cm pastry cutter, cut 18 disks, kneading the dough each time. Stretch each disk out into an oval, brush with almond oil and roll around the bamboo or tin tubes. Brush with a little egg yolk where they overlap and press down to make them stick properly. Lift the ends of the pastry slightly curling them back - makes them easier to remove. Heat the peanut oil in the frying pan and deep fry the cannoli, two at a time. When they are golden brown remove them and drain on kitchen paper. As soon as they cool enough to be able to hold them in your fingers, remove them from the tubes, oil the tubes again and wrap them in more pastry to fry some more. Assembling: Only fill the cannoli when you are ready to eat them or they go soggy. They keep in a biscuit tin for a few days. Decorate the ends with a little crushed pistachio nut, giving the typical green of so many Sicilian desserts.
Ingredients:
2 medium zucchini
4 medium potatoes
1 whole onion
1/2 cup breadcrumbs
1/2 cup romano or parmesan cheese (mixed would be nice)
1/4 cup olive oil
Salt and pepper
Description:
Slice zucchini and potatoies 14 inch thick and place in large bowl.
Pour oil over zucchini and potatoes and mix with your hands.
Sprinkle breadcrumbs, chees, salt and pepper over vegetables and mix again.

Spread the vegetables in a large pan (cookie sheet type). Set oven at 400 degrees and cook for 25 to 30 minutes.
Miscateddri - Sicilian Calzone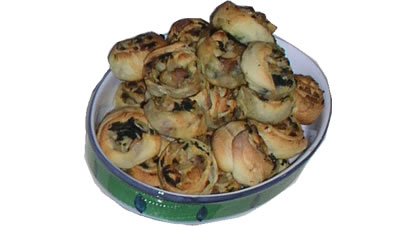 This recipe is one of my mothers. I hope you enjoy them. Now I can pass the recipe onto my friends as they have always asked me for it but never got around to write it down.
Makes: 18 to 24
For the starter:
1 envelope (2 1/4 teaspoons) active dry yeast
1/2 teaspoon sugar
1 cup lukewarm water
For the dough:
2 3/4 cups all-purpose flour
1 teaspoon salt
1 teaspoon plus 1/3 cup vegetable oil
For the meat filling:
2 to 3 tablespoons olive or vegetable oil
2 onions, chopped
1 pound pork
2 teaspoons salt
1 teaspoon freshly ground black pepper
For the spinach filling (optional):
1 pound spinach, or chard
salt and freshly ground black pepper
For the balance of ingredients:
Black olives
4 potatoes cut in small cubes
freshly grated black pepper
salt

1. To make the starter for the dough, in a small bowl, dissolve the yeast and sugar in the lukewarm water. Set aside for 10 minutes until frothy.

2. To make the dough, in a bowl, stir together the flour, salt, and the 1 teaspoon oil. Add the starter and using a stand mixer fitted with a dough hook, beat on medium speed until a soft dough forms, about 10 minutes. Turn out the dough onto a lightly floured work surface and divide into 2 balls. Place the balls in a bowl, add the 1/3 cup oil, and toss to coat the balls with the oil. Cover with a kitchen towel and let rise until almost doubled in size, about 1-1/2 hr.
3. Meanwhile, select one of the fillings and prepare it. The meat filling you do not have to cook it, just add the salt and pepper and set aside.
4. To prepare the spinach or chard filling, cook until wilted in the rinsing water clinging to the leaves, squeeze the spinach dry, and chop finely. Place in a bowl and add salt and pepper and mix well .
5. To prepare the onion filling, in a pan warm the oil over medium heat. Add the onions and saute until soft and golden, about 15 minutes. Remove from the heat, place in a bowl, and let cool.
6. Preheat the oven to 350 degrees F. Grease two cookie sheet pans with olive oil or vegetable oil.
7. On a lightly floured work surface, with a rolling pin roll out a ball of dough into a large circle (the size of a large pizza) and about 1/5 inch thick (the thinner the dough is spread the better). Take one tablespoon of oil and spread all over the flattened dough.
8. Now you can start spreading your ingredients just like you are dressing a pizza. First your meat, then your potatoes, your onions, chards or spinach and the olives.
9. Now take the edge of the dough and start rolling it with your hands as if rolling a large cigar (ha! ha!), start from the right hand side and work your way to the left but be a little careful when rolling it because the dough with the filling becomes a little thin and will tend to tear. Once you have finished rolling it, cut the roll every 2 to 2-1/2 inches long all the way across. Take each piece in your hand and twist both end into a ball and place in the greased pan about 1-1/2" apart.
10. Bake the impenulati or the miscateddri (Sicilian-slang) until golden, approx. 30 minutes. Serve hot or warm. If you make a large quantity you can also freeze them. Enjoy. Courtesy my Mom.
Serves 4

2 tablespoons exra virgin olive oil
6 tablespoons salted butter
1 large onion chopped fine
1 teaspoon saffron threads
2 cups arborio rice
1/2 cup white wine
4 cups chicken broth
1/2 cup freshly grated Parmagiano cheese
Heat the olive oil and 2 tablespoons of the butter over medium heat. Add onion and cook until softened for 10 minutes. Add the saffron stir for 1 minute. Add the rice and stir with a wooden spoon until the rice is well coated for 3 to 4 minutes.
Add the wine to the rice, and then add a 4 to 6 ounce of simmering broth and cook, stirring constantly, making sure to wipe the sides and bottom of the pot clean as you stir, until all the liquid is absorbed.
Continue adding the stock a little at a time, waiting until the liquid is completely absorbed before adding more.
After about 20 minutes begin to taste the rice. It is ready when it is tender and creamy, but still a little firm to the bite.
Stir in the remaining 4 tablespoons of butter and the Parmagiano cheese until well mixed. You are now ready to serve.
Enjoy
Pictures courtesy Rosa & Rob